I've seen these beautiful vertical gardens on Pinterest and various DIY blogs so I finally decided to make one myself.  The possibilities are endless when it comes to how you want your garden to look.  There are cut up PVC pipes, vintage round copper gutters, clean looking white vinyl gutters, or anything you want to take the time to create.  You can fasten them directly to your house or fence, attach them to boards, build a stand, or even hang them from chains.  Here's how I did mine and the supplies I used:
1 drill with drill bits / Phillips screw bit
4 boards, 6′ long each. I chose 1″x6″ boards to fit with the gutters I picked
2-4 gutters.  I used two 10′ long white vinyl gutters and cut in half with a hand saw
4 pairs of gutter end caps
Hand saw (optional if gutters and wood are cut)
Screws ~ again depends on your needs, I ended up using 20: 1.5″ screws, 24: 3″ screws
Measuring tape
Click the pictures for a closer view!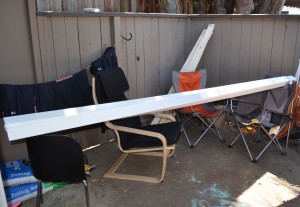 With no outdoor work area or table, I just used what was around me and improvised.  I started out by laying the 10′ gutters across two camping chairs on our porch and sawing them in half.  I couldn't find my tape measure so I just guesstimated. This didn't take too long with a hand saw, got a little bit of a workout and the edges ended up a little rough.  This did not affect the end result but you can sand them down all pretty if you want to.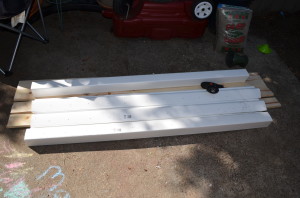 Next I drilled holes in the bottom of the vinyl gutters to allow for drainage.  You might want to research this and see how far to do them apart but I just drilled each hole about 6″ from the first one for an even amount using 1/8″ drill bit and my little portable Ikea drill.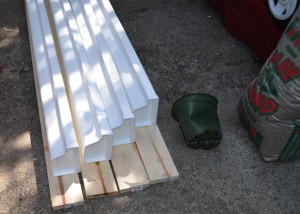 I placed the end caps on each gutter piece before attaching the gutters to the boards since they will be more difficult to press on afterwards.  Even with the jankitty cut edges, I was able to press these on with no tools, make sure they are even and won't pop off.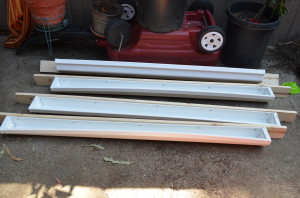 Next step is to attach the gutters to the boards.  If you bought braces this will probably be easier, just screw those to the boards and pop in the gutters.  I chose the cheaper way and just screwed them to the boards.  Using a 1/8″ drill bit I drilled a hole through the gutter and board on the left side, then put in a screw to hold it in place.  Did the same on the right side, then in the middle, then halfway between each side and middle screw.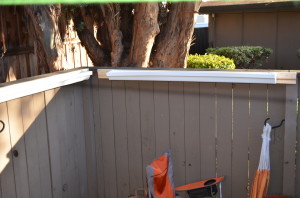 Now you are ready to put your new gutter garden anywhere you want!  You can build a stand for them, attach them to the side of your home, or put them on the fence like I did.  I was limited to where the sun shines through the trees and how the fence was laid out.  Using 3 screws in a triangle pattern, I was able to attach them to the top part of our fence and they can easily be moved with us when we go!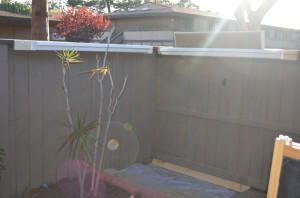 We have very limited space in the outside area at our apartment.  There is a small dugout area on the patio where I could've planted things but there is a palm tree already planted which takes up about 1/4 of the space.  The dirt is also full of gravel, and I have a toddler that loves to pick at things.  I decided to halve the area, and make a mock sandbox for the munchkin, then proceeded to see what vertical gardens I'd like.  Not wanting to deal with the time and hassle of meeting people on Craigslist or Freecycle, I just decided to buy all my supplies.  This project could easily be completed with little to no money if you want to spend the time to find and use pre-loved items.
Do you have your own Vertical Garden in the process, already established, or have you ran into issues?  This is my first attempt at gardening and I look forward to sharing more with you.  If I can help you with ideas or you can help me, Let me know what you think by commenting below!